Zincite is a Homeworld Gem, and an original Gem created by GemCrust.
Appearance
Zincite has a red complexion, short, dark maroon hair, plump lips, a red eye, and a very narrow waist. Her gemstone is located where her left eye would otherwise be. She wears a dark red top with a V-neckline and a red collar, a layered, multi-toned red skirt, and puffy, pointed muted red sleeves. There is a muted red triangle pattern on her torso. She wears a dark red sash around her waist.
Personality
Zincite is described by GemCrust to be a regal Gem.
Abilities
Zincite possesses standard Gem abilities, bubbling, shapeshifting, fusion, regeneration, agelessness, and superhuman strength/durability.
Trivia
Gemology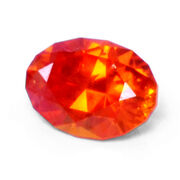 Zincite is a potent stone with powerful metaphysical properties, that energizes your entire system and creates significant and powerful stimulation of all chakras.
Its energy is an impressive aid for manifestation, but it must be used in small doses.
It is also a crystal known to stimulate and enhance your creativity.
It has been found predominantly in Poland, as well some crystals in Italy and the USA. The Polish stones are very beautiful, and were formed within their zinc smelters.
Rare deposits of natural zincite occur in combination with stones such as Calcite, Willemite and Franklinite.
Specimens of some colors of zincite are very small, so the pictures shown here are not representative of the size of the stone, and its why some pics are a little out of focus.
The color of the stone may be brilliant red, some rare yellows, bright orange, brown, green or orange-yellow, with orange zincite being the most common.
| Image | Description |
| --- | --- |
| | Zincite's gemstone is located where her left eye would be. It has four facets with a diamond-shaped facet. |
References
v • e
Gems