Verdite is GemCrust's interpretation of the fusion of Jasper and Sapphire.
Appearance
Verdite has an olive green complexion with lime green stripes on her face and arms, which is inherited from Jasper. Her lime green hair is round and slightly unkempt and she has plump lips. She has a round chest and a small waist. She has three eyes similar to Garnet, with her left eye being yellow, right eye being blue, and her third eye being bright green. Her gemstones are embedded in her right palm and where her nose would otherwise be.
She wears a multi-colored green dress with forest green shoulder pads. The top of her dress splits at the neck, like a V-neck, underneath having a Yellow Diamond symbol enclosed in a dark green section, bordered with lighter green. Her dress is a stiff forest green cone with olive green a triangular pattern encircling it. Underneath, the inside of the cone appears to be tri-colored, becoming lighter green going in. She wears dark green wrist-length gloves. She has dark green leggings that split into olive green "boots."
Personality
Nothing is known about Verdite's personality yet.
Abilities
Verdite possesses standard Gem abilities, bubbling, shapeshifting, fusion, regeneration, agelessness, and superhuman strength/durability.
Unique Abilities
Future Vision: Verdite is able to see the future to some extent, an ability that stems from Sapphire.[1]
Gemology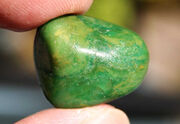 Verdite is a stone that stimulates the energy centers/chakras.
Often, verdite is used to access and assimilate ancient knowledge.
Emotionally, verdite brings consistency, stability, and fortitude.
Physically verdite is used in crystal healing for cleansing the blood, removing toxins, and genital disorders.
Verdite is a combination of primarily fuchsite and quartz with other trace minerals.
| Image | Description |
| --- | --- |
| | Jasper's gemstone is located where her nose otherwise would be. It is triangular, and faceted onto a low point. It also resembles a tetrahedron. |
| | Sapphire's gemstone is located on the palm of her right hand, featuring a triangular facet. It is an octahedron, specifically a truncated trigonal dipyramid. |
Gallery
References
v • e
Fusion Gems




Cross-Alignment Gem Fusions