Parisite was the fusion of Ruby, Sapphire, Pearl, Amethyst and Ice. She was replaced by Rainbow Fluorite.
Appearance
She has visibly segmented limbs and joints, light brown-pink unkempt hair, plump lips, a pointed nose, and eight arms. It is unknown how many eyes she has and what color they are. Her left arms and right leg are mustard and her right arms and left leg are olive. Her mandible is olive and the rest of her face is mustard. Her gemstones are located on her forehead, upper arms' palms, chest, and the back of her upper left arm's hand.
There is a maroon mask that is divided down the middle with six holes covering her face. She wears a yellow-olive collar, an olive and maroon top, and a faded mustard and maroon bottom section.
Personality
Nothing is known about Parisite's personality yet.
Abilities
Parisite possesses standard Gem abilities, bubbling, shapeshifting, fusion, regeneration, agelessness, and superhuman strength/durability.
Trivia
GemCrust stated that, when first creating Parisite, he based her design in an insect, because the word "parisite" reminds him of "parasite".[1]
Gemology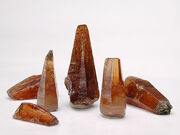 Parisite occurs in carbonaceous shales including those hosting emeralds and as inclusions in the emeralds.
Parisite is named after J.J. Paris, mine owner at Muzo, Boyaca, Colombia, the discovery locality.
Parisite forms transparent to translucent brownish yellow, orange to brown crystals. The occasional star stone has been known.
It has a rating of 4.5 on the Mohs Hardness Scale.
| Image | Description |
| --- | --- |
| | Amethyst's gemstone is located on her chest. It features a hexagonal facet and is circular in shape. |
| | Ice's gemstone is located on the back of her left hand. It is faceted and shaped like a thin diamond. |
| | Pearl's gemstone is located on her forehead. It is polished and oval in shape. |
| | Ruby's gemstone is located on her left palm. It features a square facet and is circular in shape. |
| | Sapphire's gemstone is located on her right palm. It features a triangular facet and is circular in shape. |
Gallery
References
v • e
Fusion Gems




Cross-Alignment Gem Fusions