Padmaraga is a Homeworld Gem, and an original Gem created by GemCrust. 
Appearance
Padmaraga has red-pink skin, bob-styled light pink hair with a fluffed front quiff, two eyes with light brick red irises and no visible pupils, and plump lips. She has a stubby build with a flat chest, thick waist, and small hips. Her gemstone in embedded in her navel.
She wears a cherry red leotard with a diamond-shape cutout and two round shoulder pads. She wears a pair of white boots.
Personality
Nothing is known about Padmaraga's personality yet.
Abilities
Padmaraga possesses standard Gem abilities, bubbling, shapeshifting, fusion, regeneration, agelessness, and superhuman strength/durability.
Trivia
Padmaraga was poofed by Ice and is currently inactive.[2]
Padmaraga was originally named Pink Sapphire but then it was changed when an anonymous suggested her new name.[3]
Gemology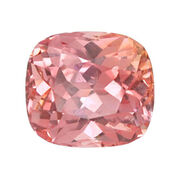 The term "padparadscha" (also known as Padmaraga) is derived from the Sinhalese word for aquatic lotus blossom, which has an unusual salmon color.

Many agree that padparadschas straddle the color boundary between pink and orange.

Padparascha sapphires are mainly found in Sri Lanka, as well as Madagascar and Tanzania.

Some experts insist that true padparadschas can come only from Sri Lanka, which, for centuries, was the only source of this coveted stone.
| Image | Description |
| --- | --- |
| | Padmaraga's gemstone is located on her navel. It features a diamond shaped facet and is circular in shape. |
Gallery
References
v • e
Gems