Onyx is a Homeworld Gem, and an original character created by GemCrust.
Appearance
Onyx has the muscular and well-built stature of an average Quartz. She has unkempt off-white hair, dark grey skin, plump lips, and black eyes.
She wears a darker grey sleeveless top with a white inverted triangle section and a White Diamond insignia. There is a light grey sash around her waist. She wears darker grey pants tucked into short white boots. Her gemstone is located on her navel.
Personality
Nothing is known about Onyx's personality yet.
Abilities
Onyx possesses standard Gem abilities, which include bubbling, shapeshifting, fusion, regeneration, agelessness, and superhuman strength/durability.
Gemology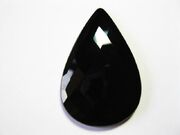 Onyx is primarily associated with the root chakra.
It assists with challenges in life, especially those caused by a drain of energy.

It prevents and protects the draining of energy.

It has been used in the past for wound healing, childbirth, and to increase stamina and self-control.
| Image | Description |
| --- | --- |
| | Onyx's gemstone is located on her navel. It features a rounded square facet and is shaped the same way. |
References
v • e
Gems