Olivine is a Homeworld Gem, and an original Gem created by GemCrust.
Appearance
Olivine appears to have a kind of aggrivated face, so it can be inferred that she isn't a very nice Gem. She has a big green dress that covers her shoulders to her legs. She has a big bun with two bangs on each side of her head.
Personality
Olivine is described by GemCrust to be a regal Gem.
Abilities 
Olivine possesses standard Gem abilities, bubbling, shapeshifting, fusion, regeneration, agelessness, and superhuman strength/durability.
Trivia
Olivine has a personal Pearl.
Gemology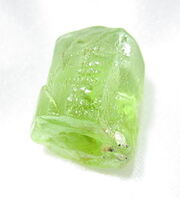 Olivine is one of the most common minerals in the earth, and is a major rock forming mineral.
Despite this, good specimens and large crystals are uncommon and sought after.
Only few localities yield large examples of this mineral, although small and microscopic grains are found worldwide.
Olivine is one of the weaker common minerals on the surface according to the Goldich dissolution series.
| Image | Description |
| --- | --- |
| | Olivine's gemstone is located on her lower torso. It is round with no facets. |
v • e
Gems