Laguna Agate is the fusion of Garnet (by extension, Ruby and Sapphire), Pearl and Ice, created by GemCrust.
Appearance
Laguna Agate has a similar overall body structure to Sardonyx but has slightly more mass on her lower portion. She has a tea rose skin and shoulder-length blue chalk hair styled into a slick back with flicks extending from the sides. Her face is very rounded that inherits plump lips, a pointed nose, she wears a transparent mauve and tangerine tinted visor that covers her three pairs of tangerine eyes, with the middle pair larger and having pupils. Her gemstones are embedded in her top palms, forehead, and sternum.
Current
Laguna Agate wears a tight-fitting bodysuit. She has dark magenta upturned, egg-shaped shoulder pads. All six of her hands also wear an armband similar to the ones Ice wears. She has a blue leotard with a cream yellow waist, and light blue top and bottom sections. She has an inverted yellow-and-magenta triangular pattern on her sternum. She wears a cherry red visor, Similar to Sardonyx's, but more ovular. She has smoky purple leggings, and navy blue sections separating dark magenta "boots." She has a star on her back.[1]
Previous
Laguna Agate had a four-toned leotard, the star-shaped part was violet red and resembled Garnet's, the other part was electric indigo and medium violet red. Laguna had dark magenta upturned, egg-shaped shoulder pads that were two-toned, the top part being deep magenta and the inner part of the shoulder pads being ultramarine. She wore an ultramarine sash with the fourth toned part of the leotard being deep magenta. She wore two-toned leggings, the left part being violet red and the right part being ultramarine, and her boots vice versa.
Debut
Laguna Agate wore a purple bodysuit with navy purple shoulder pads, a downward-facing plum triangle with a star-shaped cutout in the middle, that overlapped another burnt sienna triangle at the bottom. There was a fandango-colored portion between her groin and torso. She had purple leggings, plum knee-high boots with burnt sienna tips on her left leg and the same boots but alternate-colored on her right leg. Laguna Agate also wore navy blue gloves on her first two pairs of arms and navy blue arm sleeves on her third pair and an open-front sheer yellow tutu.
Personality
Laguna Agate is described as a soft spoken person. She's kinda like Rose Quartz, but not like Sardonyx[2] in terms of personality.[3]
Abilities
Laguna Agate possesses standard Gem abilities, bubbling, shapeshifting, fusion, regeneration, agelessness, and superhuman strength/durability.
Unique Abilities
Cryokinesis: She possesses Ice's and Sapphire's cryokinetic powers.[4]
Gemology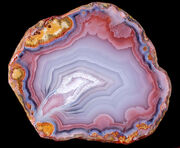 Laguna Agate is the most highly praised banded agate in the world.
It is known for its extremely tight banding and vibrant shades of red and scarlet.
Laguna Agate is a variety of banded Chalcedony, a mineral of the Quartz family.
Though predominantly scarlet, its layers may contain shades of deep red, milky white, yellow, gold and brown.
Laguna Agate helps bind groups tightly together, and would greatly benefit educators, counselors, and professional coordinators.
Stimulates the imagination and inspiration of writers and artists, and has the power of weaving complex themes into a work of art.
| Image | Description |
| --- | --- |
| | Sapphire's gemstone is located on the palm of her right hand, featuring a triangular facet. It is an octahedron, specifically a truncated trigonal dipyramid. |
| | Ruby's gemstone is located on the palm of her left hand, featuring a squared facet. It is a decahedron, specifically a truncated tetragonal dipyramid. |
| | Pearl's gemstone is located in the center of her forehead. It is a smooth ellipsoid with no facets. |
| | Ice's gemstone is located on her sternum. It is faceted and shaped like a thin diamond. |
Gallery
References
v • e
Fusion Gems




Cross-Alignment Gem Fusions