Jasper is a Homeworld Gem, and an original character created by GemCrust.
Appearance
Jasper has orange skin with scarlet markings on her face, chest, right arm and left hand, unkempt light orange cream hair, plump lips, and two eyes with yellow-orange irises and small black pupils. She has a thick build, as she is a Quartz, a round chest, a large waist, and wide hips. Her gemstone is embedded in the back of her left hand.
She wears a light multi-maroon shaded bodysuit, similar to the canon Jasper. She has a V-neck light maroon top with a black-maroon border connected to a Yellow Diamond symbol in the center of her chest. She has black-maroon leggings which split off into a pair of brick red "boots" with maroon toe tips.
Personality
Nothing is known about this Jasper's personality yet.
Abilities
Jasper possesses standard Gem abilities, bubbling, shapeshifting, fusion, regeneration, agelessness, and superhuman strength/durability.
Gemology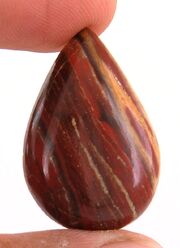 Jasper is the zodiacal stone for Leo, Virgo, and Scorpio. It is a planetary stone for Mars, and is associated with the element of fire. It is also an alternative birthstone of March.
Jasper gemstones often represent protection, nurturing, relaxation, and so on.
Jasper is a variety of quartz with a chemical composition composed primarily of silicon dioxide.
Jasper comes in all colors, mostly striped, spotted or flamed. Jasper herself has multiple markings across her body, a reference to this.
Jasper's chemical formula is SiO2::Fe2O3, where the iron oxide (Fe2O3) make jaspers take a red-orange coloration.
The name 'Jasper' is directed from the Greek word for 'spotted stone', referring to its natural multicolored, flame, spotted, striped-like structure.
Jasper can be found in different colors such as red, brown, pink or green.
Jasper is an aggregate (mixture) of microquartz and/or chalcedony (Sardonyx and agate) which gives the gem it's stripes.
| Image | Description |
| --- | --- |
| | Jasper's gemstone is located on the back of her left hand. It is triangular, and faceted onto a low point. It also resembles a tetrahedron. |
v • e
Gems