Galaxite is the fusion of Garnet (by extension, Ruby and Sapphire), Pearl, Amethyst, Peridot and Ice.
Appearance
As a fusion of different Gems, Galaxite is very tall and slim possessing four pairs of arms. She has blue bell skin and violet hair styled into a three-pointed star with flicks extending at the bottom. She has plump lips similar to Jasper's and a small pointed nose. It is unknown how many eyes she has because of her visor covering them. Her dark purple visor seems to be below Pearl's and Peridot's gemstones.
Galaxite wears a large indigo shoulder pad with a deep violet streak in the middle and is underneath dark-mauve-toned, an indigo bodysuit, and ripped dark-purple leggings that extends down to her feet. She has dark-purple gloves on her first three pairs of arms that go up above her elbows. The first pair of gloves resembles Garnet's and the third pair also resembles the first pair but torn. She also wears a short dark mauve cape and has a galaxy printed underneath it. 
Personality
Galaxite is stoic and never speaks.[2] She's also very unstable and can't maintain herself for too long.[3]
Abilities
Galaxite possesses standard Gem abilities, bubbling, shapeshifting, fusion, regeneration, agelessness, and superhuman strength/durability.
When fused with Jasper, Lapis Lazuli and Rose Quartz, they form Neptunite.
When fused with Jasper, Lapis Lazuli, Rose Quartz, Chrome Diopside and Coral, they form Champagne Aura Quartz.
When fused with Jasper, Lapis Lazuli, Rose Quartz, Marshallsussmanite, and Emerald, they form Cadmoindite.
Skillset
Amalgam Physiology: Galaxite is able to summon all the weapons and control the powers of all their components and the fusions within them.
Unique Abilities
Short Distance Teleportation: Galaxite has the ability to warp short distances.[3]
Trivia
Galaxite's fusion dance is not formed by her components individually, but rather by Alexandrite and Mixite.[5]
Gemology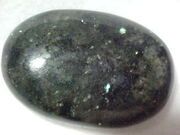 Galaxite, or Galaxyite, is a micro-labradorite with intense energy.
It is sometimes known as the "aura stone" because it is an energetic stoned that excels in protecting, cleansing, and balancing the aura.
Galaxite is also a stone of transformation, it assists with spiritual, mystical, and intuitive growth and transformation.
It enhances both the conscious intellect and the subconscious mind and eases stress and anxiety.
Galaxite is helpful for astral travel and astral projection.
Galaxite is associated primarily with the crown chakra.
| Image | Description |
| --- | --- |
| | Peridot's gemstone is located in the center of her forehead. It has facets around the edge, but they are hidden behind her skin, making it appear smooth surfaced. Her gem also lacks a ring. |
| | Pearl's gemstone is located in the center of her forehead. It is a smooth ellipsoid with no facets. |
| | Ruby's gemstone is located on the palm of her left hand, featuring a squared facet. The front and back are symmetrical. It is a decahedron, specifically a truncated tetragonal dipyramid. |
| | Sapphire's gemstone is located on the palm of her right hand, featuring a triangular facet. The front and back are symmetrical. It is an octahedron, specifically a truncated trigonal dipyramid. |
| | Ice's gemstone is located just below her chest on her sternum. It is faceted and shaped like a thin diamond. |
| | Amethyst's gemstone is located on her chest, featuring a hexagonal facet. The front and back are symmetrical. It is a tetradecahedron, specifically a truncated hexagonal dipyramid. |
Gallery
References
v • e
Fusion Gems




Cross-Alignment Gem Fusions