Eisenkiesel is a Homeworld Gem, and an original Gem created by GemCrust.
Appearance
Eisenkiesel has brick red skin, unkempt white hair, plump lips, and two eyes with cherry red irises with small black pupils. She has a thick build, a round chest, a large waist, and wide hips. Her gemstone is embedded in her chest.
She wears a sleeveless bodysuit with deep red sideways triangles next to her arms, light brownish red triangles on her neck and waistlines, and a light brick red V connected to her shoulders. She has black-chocolate brown leggings with scarlet red toe tips.
Personality
Nothing is known about Eisenkiesel's personality yet.
Abilities
Eisenkiesel possesses standard Gem abilities, bubbling, shapeshifting, fusion, regeneration, agelessness, and superhuman strength/durability.
Being a Quartz Gem, she was created to fit the role of a warrior within Gem culture.
Relationships
Her Pearl was afraid of her, but they got a bit closer over this past year.[1]
Trivia
She had little to no character development simply because she was only meant to represent GemCrust's image of a Quartz warrior.[2]
She has her own Pearl.
Gemology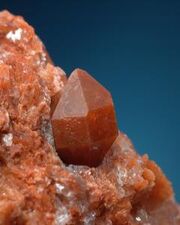 Eisenkiesel Quartz gets its name from German "iron pebble" because it is quartz with red hematite inclusions that make it opaque or nearly so. It is also called Ferruginous Quartz at times.
As a crystal with both quartz and hematite, it has energies of both including concentration, harmony, enhancing energy, and protection. It is also said to relieve depression and slow aging.
On fairs you will see many nice orange quartz crystals (named "Orange Quartz", "Tangerine Quartz" and the like) that are colored by a coating of iron oxides but are white or colorless underneath.
The color varies between yellow, orange, red, and brown tones of different intensities.
| Image | Description |
| --- | --- |
| | Eisenkiesel's gemstone is located on her chest. It is faceted and shaped like a long, hexagonal crystal with double pointed ends. |
Gallery
References
v • e
Gems