Demantoid is a Homeworld Gem, and an original Gem created by GemCrust.
Appearance
Demantoid has a build similar to that of Garnet's, except she lacks arms and a head. Instead, there are green spherical devices at her shoulders that connect wirelessly to green, robotic arms, similar to Peridot's limb enhancers' fingers. Her gemstone hovers above her body, where her head would otherwise be. Two green hands, either gloved or her actual "skin", come out of the rounder ends of her arms.
She wears a green Homeworld soldier uniform, a Yellow Diamond symbol on her torso, and high-waisted black footie pants that have green on the bottom of her feet.
Personality
Nothing is known about Demantoid's personality yet.
Abilities
Demantoid possesses standard Gem abilities, bubbling, shapeshifting, fusion, regeneration, agelessness, and superhuman strength/durability.
Gemology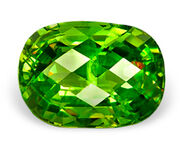 Demantoid garnet was first discovered in the Ural Mountains of Russia, and although garnets have been known for ages, demantoid wasn't discovered until 1853.
Demantoid garnet is a brilliant green variety of andradite garnet, colored by chromium and ferric iron.
It is considered to be the rarest and most valuable member of the garnet group of minerals.
Demantoid has an exceptionally high refractive index making it not only the most brilliant garnet but also more brilliant than both ruby and sapphire.
Demantoid garnet also has exceptional fire and boasts the highest dispersion rating of any jewelry gemstone available today, even exceeding that of fine diamond.
| Image | Description |
| --- | --- |
| | Demantoid's gemstone is located where her head would otherwise be. It is faceted and shaped like a long, hexagonal crystal with double pointed ends. |
References
v • e
Gems