Covellite is a Homeworld Gem, and is an original Gemsona created by GemCrust.
Appearance
Covellite has a lavender complexion, brighter lavender hair styled into three spikes, and red-violet eyes. Her gemstone is located on her chest. she wears a blue-violet and red-violet bodysuit with the colours split in the middle (similar to Garnet's post-regeneration form), lavender diamond symbols on the knees, red-violet and blue-violet toes, and long, hot pink sleeves.
Personality
Calm like a Sapphire, fights calm and straight, never gives up.
Abilities
Covellite possesses standard Gem abilities, bubbling, shape-shifting, fusion, regeneration, agelessness, and superhuman strength/durability.
Unique Abilities
Telekinesis: Covellite can move objects, and even other gems. This is shown when Covellite levitates Ice. 
Gemology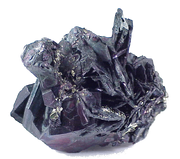 Covellite is high energy stone that is excellent for psychic and intuitive work of many kinds.
It can enhance intuitive and psychic abilities, and is a very good meditation stone.
It strengthens the connection to the higher self. It can also help open to past life recall and ancient Atlantean and other knowledge.
Mentally it is useful in finding and seeing solutions to problems and ways to accomplish goals.
Emotionally it relieves despondency, depression, and anxiety.
| Image | Description |
| --- | --- |
| | Covellite's gemstone is located on her chest. It has a rectangular facet and is an uneven quadrilateral. |
Gallery
v • e
Gems