Champagne Diamond was the fusion of Yellow Diamond and Ice. She was replaced by Zaratite.
Appearance
Champagne Diamond has pink champagne skin and very light pink hair stylized into a short bob with two spiked tips on the sides that points frontward and one spiked tip on top. She is very tall and slender, possessing two arms. She inherits Yellow Diamond's thin face, upturned nose, plump lips and long neck. She has four mauve eyes,[1] two large eyes that has black markings around it and have white diamond shaped pupils. She has a black eyebrow and another eye which also function like eyebrows and also looks like Yellow Diamond but more pink and more eyes. She wears a mauve body suit with open shoulder pads, pastel pink gloves and burgundy leggings with high heels that have blue and yellow toe tips.
Personality
Nothing is known about Champagne Diamond's personality yet.
Abilities
Champagne Diamond possesses standard Gem abilities, bubbling, fusion, shapeshifting, regeneration, agelessness, and superhuman strength/durability.
Unique Abilities
Cryokinesis: Champagne Diamond possesses Ice's ability to control and create ice and snow.
Electrokinesis: Champagne Diamond can generate powerful electric currents around her entire body and then project it from her fingertips. An ability inherited from Yellow Diamond.
Trivia
GemCrust scrapped her due to disliking the design, replacing her with Zaratite.
Gemology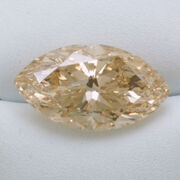 The term "champagne diamond" is used to refer to colored diamonds that range in color from light straw to golden or cognac. Interest in these unusual diamonds has grown as more designers incorporate them into jewelry and celebrities are seen wearing them.
Most consumers are familiar with transparent white diamonds where the absence of any trace of color results in a higher grading for the diamond. It is worth noting that fancy-colored diamonds are evaluated in a slightly different way to traditional white diamonds.
For colored diamonds or fancy-colored diamonds, the intensity of color is the most important factor, with clarity, brilliance and fire holding lesser significance. In fact, many fancy champagne diamonds have been known to fetch incredible prices. For example at a Christie's auction in 2011, Elizabeth Taylor's cognac diamond ring with V-SI clarity fetched over $70 thousand per carat. The color of fancy-colored diamonds is evaluated according to hue (the characteristic color), tone (lightness or darkness of color) and saturation (depth or strength of color).
| Image | Description |
| --- | --- |
| | Yellow Diamond's gemstone is located on the center of her chest. It has a diamond facet. |
| | Ice's gemstone is located on her sternum. It is faceted and shaped like a thin diamond. |
References
v • e
Fusion Gems




Cross-Alignment Gem Fusions