Carnelian (specifically Carnelian 2Z4 Cut-8JD) is a Homeworld Gem, and an original character created by GemCrust.
Appearance
Carnelian has a similar appearance to other Quartzes, she is tall with a bulky, thick build. She has poofy, messy, long, waist-length burgundy hair. She has an up-turned nose and thin, burgundy eyes with black eyebrows. She has plump lips.
She has a standard Red Diamond insignia Homeworld uniform. Her top is a dark red and her diamond insignia is pale red. Her pants and collar are brown. She has short, burgundy boots.
Personality
She's quiet and tends to keep to herself. The war for Earth hardened her beyond anything else. Loosing her original Diamond and seeing so many of her fellow gems shattered was traumatic.[2]
Abilities
Carnelian possesses standard Gem abilities, bubbling, shapeshifting, fusion, regeneration, agelessness, and superhuman strength/durability.
Skillset
Gauntlet Proficiency: Carnelian can summon a gauntlet and use it to fight.[1]
Trivia
She is Red Diamond's best quartz soldier. [3]
GemCrust stated that Carnelian would beat Ice in a fight. [4]
She is indifferent to fusion. [5]
Gemology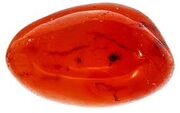 Like the unexpected fire of a sunset, or the first flash of autumn brilliance, Carnelian captivates. Its bold energy brings a rush of warmth and joy that lingers, stimulating and empowering.
Known as a stone of motivation and endurance, leadership and courage, Carnelians have protected and inspired throughout history.
A glassy, translucent stone, Carnelian is an orange-colored variety of Chalcedony, a mineral of the Quartz family.
Its color varies from pale pinkish-orange to a deep rusty brown, though it is most known for its brilliant orange and red-orange crystals. Its name comes from a Latin word meaning "flesh."
In antiquity, as well as today, Carnelian is believed to help timid speakers become both eloquent and bold.
Carnelian is full of the life force, stimulating metabolism and a good supply of blood to the organs and tissues.
| Image | Description |
| --- | --- |
| | Carnelian's gemstone is located on the back of her left hand. It has nine facets and is octagonal in shape. |
References
v • e
Gems