Boleite is a Homeworld Gem, and an original character created by GemCrust.
Appearance
Boleite has a dark powder blue complexion and indigo hair styled into a beehive-esque hairdo. The color of her eyes is unknown. Her gemstone is embedded on her left palm.
She wears a layered, blue dress with a high collar and dark blue diamonds arranged in an hourglass pattern, indigo tights with diamond shapes in the knees, and short powder blue boots.
Personality
Boleite is described by GemCrust to be a regal Gem.[1]
Ability
Boleite possesses standard Gem abilities, bubbling, shapeshifting, fusion, regeneration, agelessness, and superhuman strength/durability.
Trivia
Gemology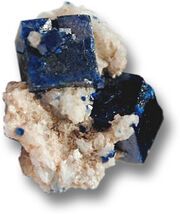 Boleite was first discovered in Boleo, Mexico in 1891, in a region of the Baja peninsula that has become well known for rare minerals.
Boleite is such an unusual and complex mineral that the definition of its chemical composition and crystal structure have undergone several revisions since its first discovery.
The first specimens of boleite were discovered by Edouard Cumene, a French mining engineer. Another rare halide mineral from the same location, with a similar structure and a slightly different chemical composition, was named cumengite in honor of Cumene.
| Image | Description |
| --- | --- |
| | Boleite's gemstone is located in the palm of her left hand. It is rectangular and has four facets. |
References
v • e
Gems